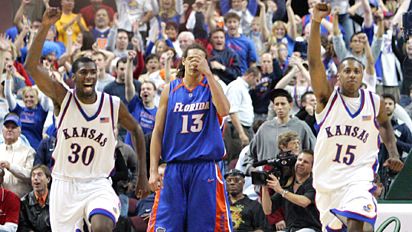 What a fantastic game!
Rock Chalk Jayhawk.
Each team had big answers back and forth.
KU should not have choked away the 4 point lead with 15 seconds left in regulation, but they got it back. I think Florida had the early momentum in the overtime period, but the Hawks got it back on D. The steal at the end was, of course, critical.
Julian played a tremendous all-around game. Wow. Jackson had a solid first half. Rush played okay and disappeared at times which seems to be his M.O.
I've never seen Self so red after they fouled at the end of regulation. I mean, he was beet red.