Time for a new post.
So, we're 23-1 and 9-0 in the Big 12. As mentioned below, do we have the stones to go 16-0?
And how does this team match up to recent teams in terms of quality and record?
In terms of the conference, I bet we will lose at least one game. The most likely target is A&M on Monday. We often, however, lose conference games we shouldn't. Remember the championship team's loss to Oklahoma State in February? A team that was 14-12? Of course, that was after the tragic deaths of Roderick Stewart and Darnell Jackson's family members. And they didn't lose again.
So far, record-wise we outstrip the champions. At this point in 2008, they had lost twice, and were about to lose to the aforementioned Cowboys. Only three losses total and they definitely won when it mattered.
The '06-'07 Jayhawks had lost to Oral Roberts, Depaul, Texas Tech, A&M. That was their last loss until they met UCLA in the Elite 8. So, that team lost 5 total, and 4 by this point in the season.
Sadly, record-wise, the only Bill Self team these Jayhawks resemble is the imploding 04-05 team. They had one loss to Villanova until late February when they lost three in a row, and dropped three more before it was all said and done.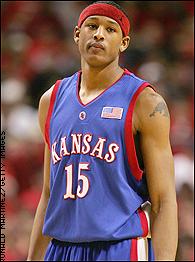 Moving on to quality, how do we stack up against the championship team? That's the only comparison that matters, right?
I reckon we are more consistent, but less spectacular. That team had so many weapons, but often, no single leader. And that team struggled more in muddy, tough games.
But they sure threw a lot of alley-oops!
The championship team played great defense and smooth offense. But they were a little mercurial. Is Rush going to disappear? Is Arthur going to foul out? They also struggled with turnovers and free throws.
While this team has similar turnover and free throw issues (cough, Brady) they, so far, seem more consistent. Cole will consistently get tons of rebounds and blocks. And now that he's healthy, he'll probably put up at least 10 points. Sherron and Marcus have also been super consistent for us in league play.
So, how do we feel about this team? Elite 8? Final Four? Championship?